Legendary Alpenrallye in 2019 along new routes
There is a frisson of anticipation among motorsports enthusiasts: the Kitzbüheler Alpenrallye – one of Europe's leading classic car events – will take place from 5 to 8 June 2019 along the most scenic alpine roads in Tyrol, Salzburg and Bavaria. The 32nd Alpenrallye was presented alongside the International Hahnenkamm-Race in Kitzbühel.
In 2019, the event will include new routes across some of the most famous mountains in the Alps: Kitzbühel Alps, Wilder Kaiser, Loferer Mountains, Hochkönig, Zillertal Alps, Rofan Mountains and Hohe Tauern offer rally teams breathtaking drives through stunning alpine landscape, as well as a few motoring challenges. For the first time in years, the route for 2019 will make a detour at the King's Stage (Friday, 7 June) through the Mozart city of Salzburg. The Saturday stage (8 June) takes race participants over the Gerlos Pass, through the Zillertal and Inntal valleys and finally back to Kitzbühel for the grand finale: from 2:30 pm the 180 rally teams will begin to cross the finish line in the old town and parade their classic cars in the streets to the cheer of thousands of jubilant spectators.
This year participants will have to negotiate about 600 km along challenging mountain routes. The race is divided into two categories: the Sports Trophy for those competing to win and the Classic Trophy for enthusiasts who simply want to enjoy the ride. The rally is open to vintage cars built before 1972/1975 and attracts an array of stunning pre-and post-war classics to the start line. They include limited editions from many of the world's leading carmakers such as Bentley, Bugatti, Lamborghini, Porsche, Ferrari, Jaguar, Mercedes-Benz, Aston Martin and Rolls Royce.
Since its launch 32 years ago, the Kitzbüheler Alpenrallye has garnered a reputation as one of the most prestigious classic car events in Europe. The glitz and glamour of Kitzbühel, the breathtaking beauty of the surrounding Alps and scenic alpine roads make it one of the most popular classic car events. It's no wonder that the alpine rally attracts not only passionate classic car enthusiasts, but also many celebrity participants from racing, show business, commerce and sport. The exclusive hospitality programme provides the perfect complement to the exhilarating rally experience and the unique ambience of Kitzbühel, the sporting capital of the Alps.
The Kitzbüheler Alpenrallye is alongside the world-famous Hahnenkamm Race (Ski World Cup) and the Generali Open ATP tennis tournament one of the top three events in Kitzbühel.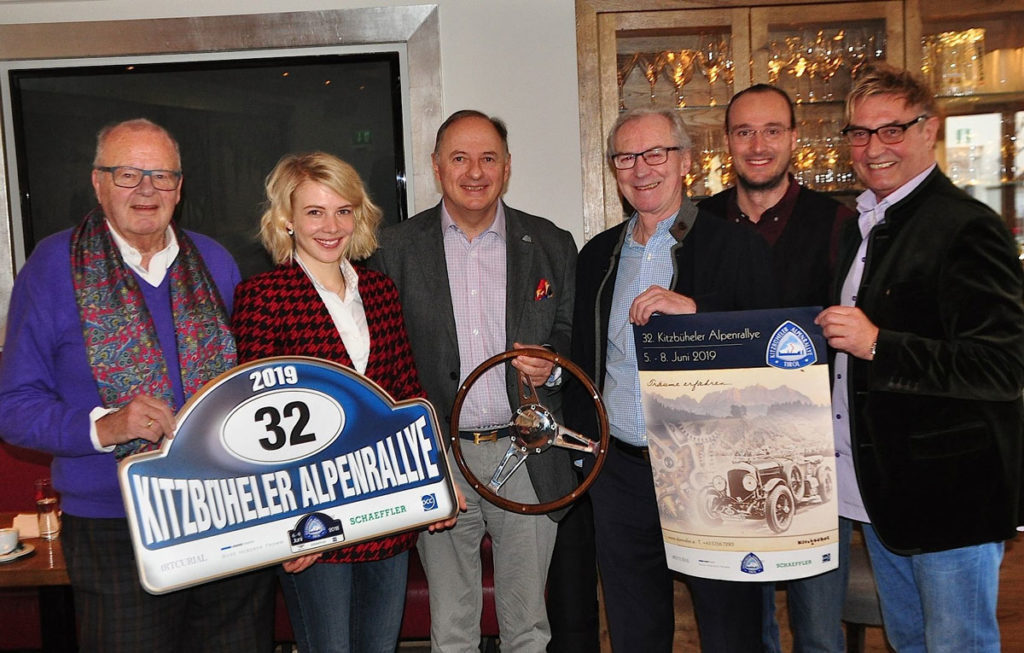 Presentation of the 32nd Kitzbüheler Alpenrallye (June 5th – 8th 2019) – In the picture the Organising Committee with Kitzbühel Tourism managing director Viktoria Veider-Walser.. From left to right: Rudi Höfinger, Dr. Viktoria Veider-Walser, Dr. Clemens Winkler, Rupert Mayr-Reisch, Mike Mayr-Reisch and Markus Christ.